Pan Africa Heart Foundation in conjunction with Kabarak University held a mass Rheumatic Heart Valve Disease screening at Kabarak University, Nakuru, on 6th April 2013. The screening was held for a population comprising of Moi High School students, Kabarak University students and people from the surrounding area.
The event was graced by the presence of Former President of Kenya and Chancellor of Kabarak University, His Excellency Daniel Moi; the British High Commissioner to Kenya and Trustee for PANAHF Dr Christian Turner; Education advisor to Kenya from the US Embassy Faith Biko; Chairman and Founder of Pan Africa Heart Foundation, Dr Raj Jutley, as well as other dignitaries.
Part of the PANAHF team that participated in the screening was doctors, nurses and volunteers some of which travelled from afar to devote their time to the cause. In addition, PANAHF also collaborated with Kenya Blood Transfusion Services as a part of its Corporate Social Responsibility to help top up the Kenyan Blood Bank. The KBTS team managed to collect 178 units of blood on the day, and conclusively, they will be a part of all future screenings.
During the nine hours of screening, PANAHF screened approximately 700 people and identified 15 cases that would need surgery in the near future; and an additional 11 cases were identified for constant follow up at the Kabarak University Clinic as a preventative measure. The foundation is now working on collecting funds to help some of these cases pay for surgery at Kenyatta National Hospital or Aga Khan University Hospital in Nairobi.
His Excellency Former President Daniel Moi commended PANAHF for the excellent exercise that would lead to the betterment of the health of the citizens in the area. He also lauded the British and American governments for their continual support to the country. "We need this help and with the aid of British High Commission and Pan-Africa Heart Foundation, Kabarak is ready to help the community," Moi said.
Dr Christian Turner, British High Commissioner to Kenya, also has a personal interest in the cause as a result of family history. He announced the UK Government has partnered with research institutions in Kenya to improve local medical research.
PANAHF would like to thank all the doctors, nurses, volunteers who took part in the screening and as well as Kabarak University for its support through the exercise.
Out of good faith, panahf also donated medical books and computers on the day of screening to aid the start up of their School of Health Science.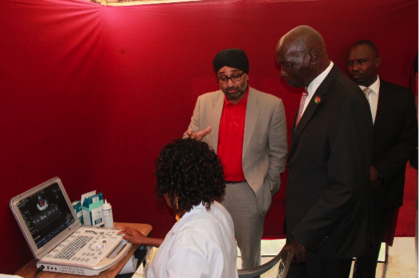 Dr Raj Jutley explaining to His Excellency Daniel Moi on how the echocardiogram divulges important information about the patient's heart valves, and its significance in the assessment of congenital heart disease  
Dr Christian Turner, British High Commissioner to Kenya, assuring the audience of the British Government's continual support to the Kenyan Health Sector.